Find me one person on this planet that doesn't love a good sliding barn door. Go ahead. Its just not possible. They are like puppies. Impossible to resist.
The sliding door in Alicia's Office was the first must have element that we decided on. Bi-fold doors were not her friend, and they aren't yours either.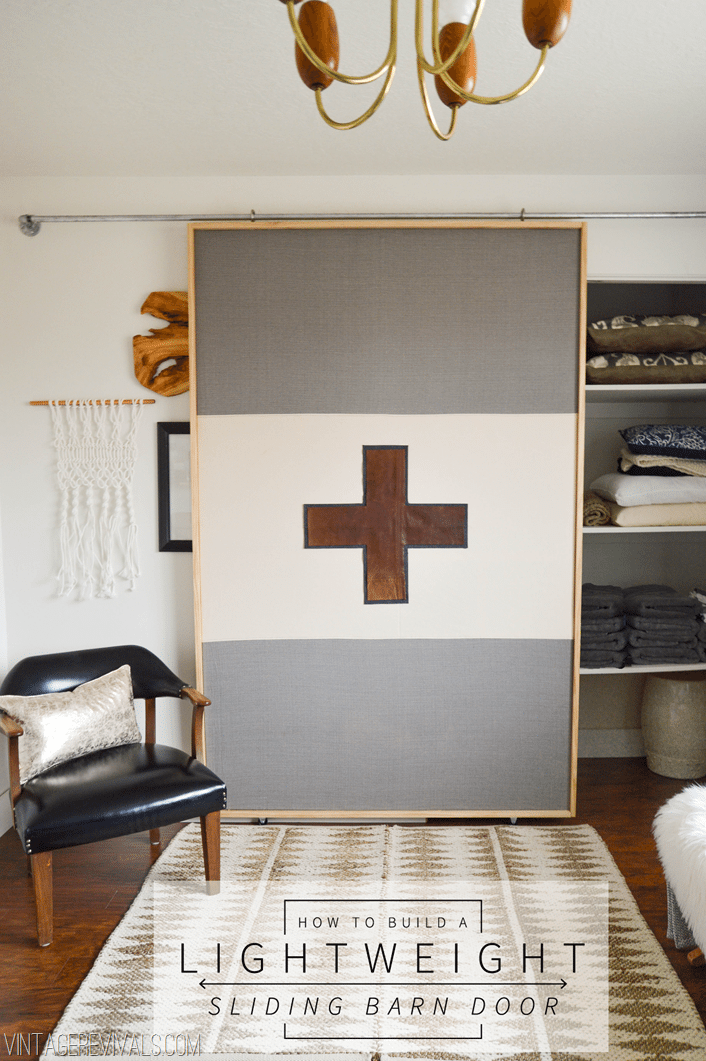 There are 2 main problems that people run into when lusting after a sliding barn door. 1. The hardware is expensive. 2. They are heavy. Like watch your toes if you want to keep them, heavy.
So after a late night brainstorm sesh I came up with the idea of a sliding screen. When I tell you this thing is light, I mean, me, the weakling with chicken arms can pick it up myself. Easily.
The secret is that behind that awesome fabric is just a frame. Nothing solid. When I say nothing solid, I don't mean sturdy,  I just mean not full of wood and weight.
Here is what you see: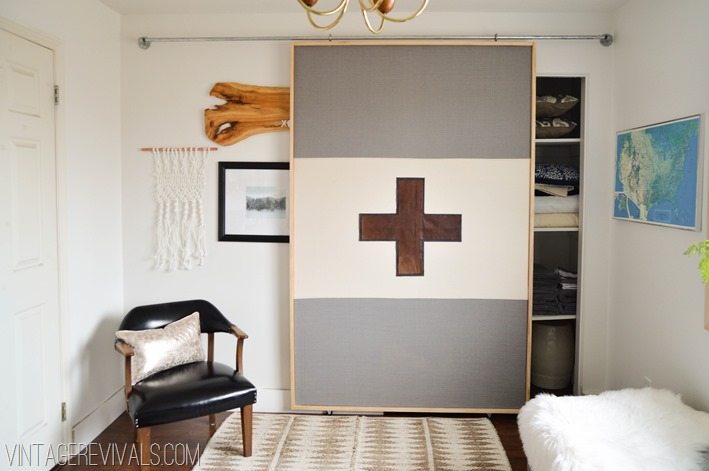 And here is a sketch of what it looks like behind the scenes.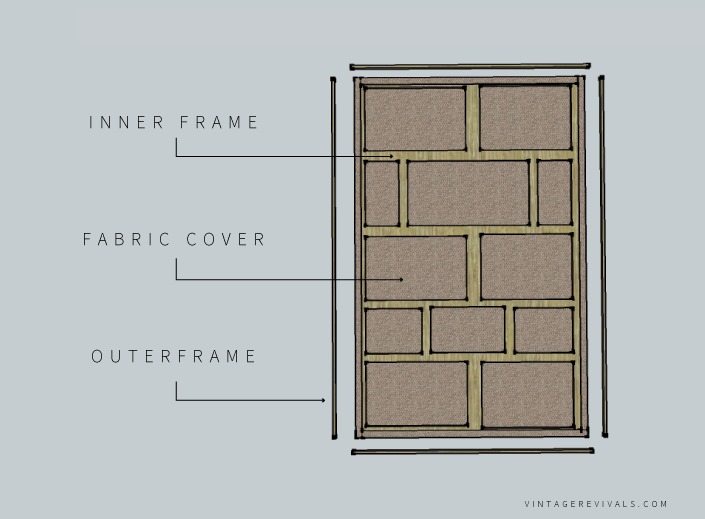 Its like magic!
Now, no 2 houses are the same, so I am going to tell you exactly what you need to know to make your own, and custom fit it to your space.
To start you need 3 measurements.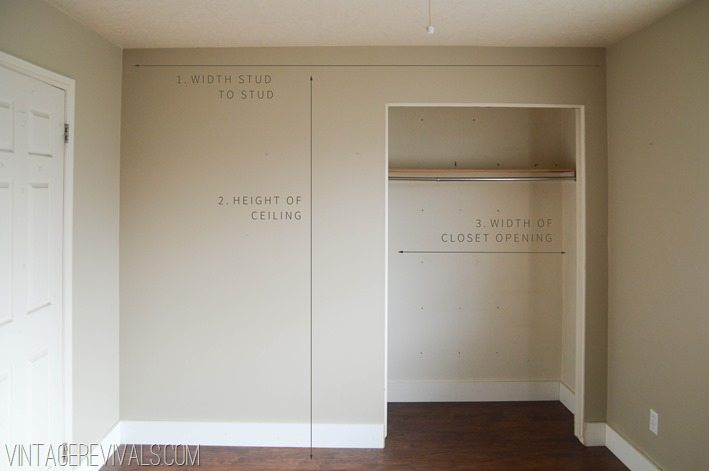 The width of your wall (or how far you want your door to be able to slide) stud to stud.
The height of your ceiling.
The width of the closet opening.
Supplies you will need:
Tools:
Miter Saw (or chop box)
Drill
Stapler (doesn't need to be fancy!)
Nail Gun with Finishing Nails

 
Supplies:
**When you are buying your lumber, get the length that is most compatible with your ceiling height. For example our ceilings were 8 feet high so I bought 8' boards. But if your ceiling is 11' high and you want the door to go all the way up, you will need to buy boards that are at least that long.
1×2's  for the inner frame. For a door that measures 86×55 we used (10) 8 foot boards. These boards are extremely inexpensive (we are talking $2 each)  so it is better to buy an extra or 2 than to have to go back.
1×3's in Premium Grade wood. This type of wood is located by the molding and is more expensive, but it is much nicer quality that building grade and it is going to show. For a door that measures  I bought two 8' boards and two 6' boards.
Fabric. I used an old table cloth and some clearance muslin from the fabric store. You can buy upholstery fabric (it usually comes in wider widths), a sheet, a table cloth, or a combo of all of them!
(3) Eyehooks
(2) 1.5" Fixed Rolling Casters
(2) 1/2×2"Pipe Nipples
(2) 90 degree 1/2" Elbows
(2) 1/2" Floor Flanges
(1) Length of 1/2" Conduit Pipe that is the same as your stud to stud measurement. You will most likely need to have this cut and threaded to the right length. Your friends at Home Depot will do this free of charge!
(8) 2" Hex bolts. These are going to attach the floor flanges to the wall. In all reality, 4 will connect to the studs and 4 will fill the other holes to make it look pretty. (Just keeping it real!)
Screws to build the inner frame work. We used Kreg pocket screws (without drilling the pocket holes) and they worked amazingly. Because of the way the threads are they don't split the wood you are drilling into.
Ok! Here is how you do it!
Start by building the outside of the inner frame. You want your door to be at least 6 inches wider than the width of your closet (measurement #3) and be 10 inches shorter than your ceiling (this will give you a little bit of wiggle room during installation!)  When all is said and done, the door will sit about 6" below the ceiling, not 10")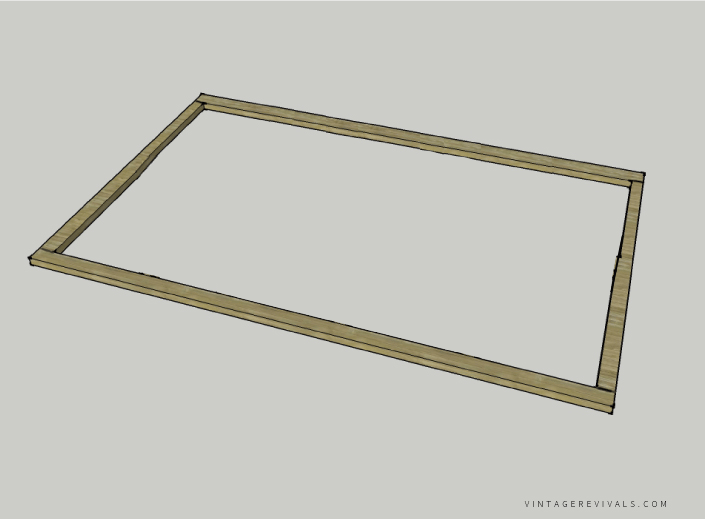 Drill a pilot hole into the first board. Using self drilling screws,  screw them together. It is a godsend to have 2 drills for this process. This is the technique that you will use for the entire build.
Once you have built your frame, you are going to attach cross pieces that run horizontally inside it. When you are measuring for these cuts, just make sure that you are measuring the inside of the frame,  Double check that they are level (its not like anyone will see them, but it will make your job easier down the road!)  We attached 4 boards, about 15 inches apart. Once again, unless you have someone living inside the closet you wont see these, so guestimations are a-ok with me!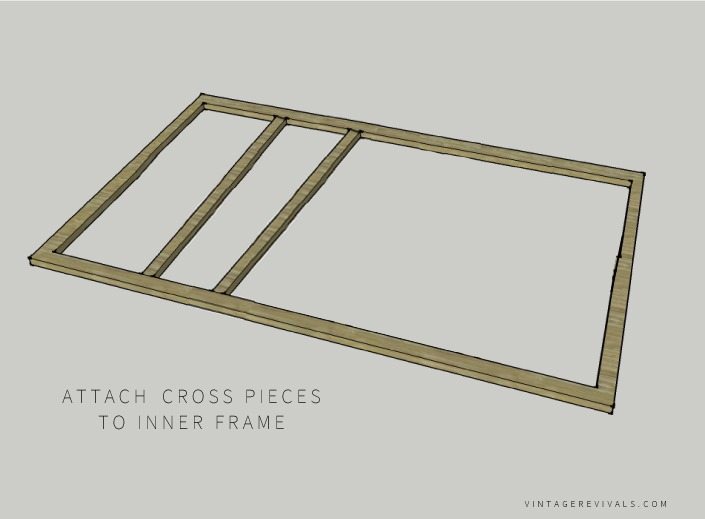 Once you have attached your 4 cross pieces, you are going to attach vertical pieces inside them. If you guestimated the distance between your horizontal pieces just measure before you make these cuts. Stagger the vertical boards to give it more strength.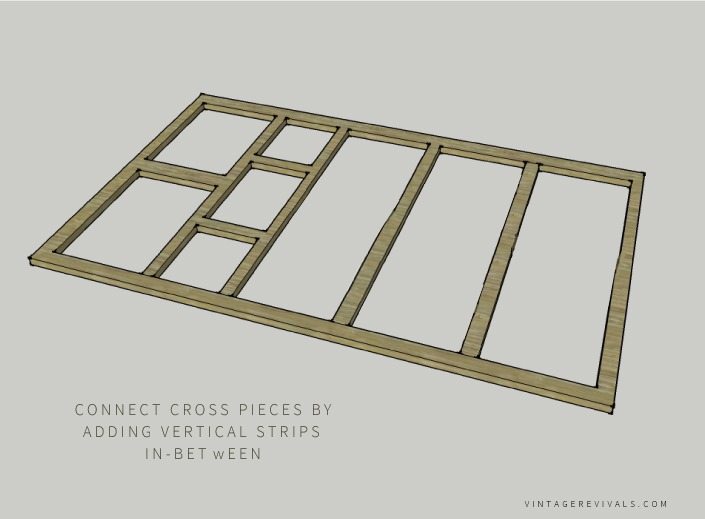 That is it for the inner frame! Pretty simple right?!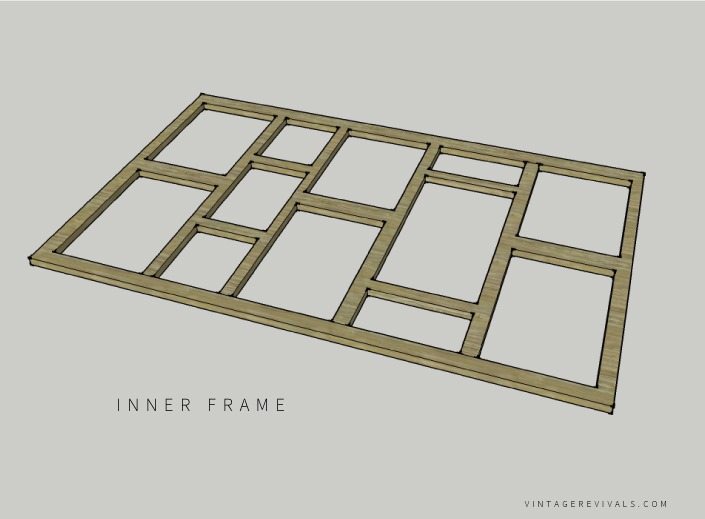 Next it is time to add your fabric. The design on my door has a large stripe in the center. So naturally it needed to be centered on the door. I marked the center point on the wood, and on the fabric, and lined those up before I started stapling (also make sure that your stripe is level!)
Staple a few in the center area on opposite sides, and then switch to the top and bottom and staple there. By rotating where you are stapling, (this is the technique) and doing the whole thing at once  (as opposed to one whole side at a time) you will keep your pattern straight and help with bunching.
Trim off your excess. Just a side note here. I had a TON of excess fabric because it is easier to staple and then cut, than it is to measure, cut, and then staple, and then cut again. (You can see how much was left in the bottom of this picture!)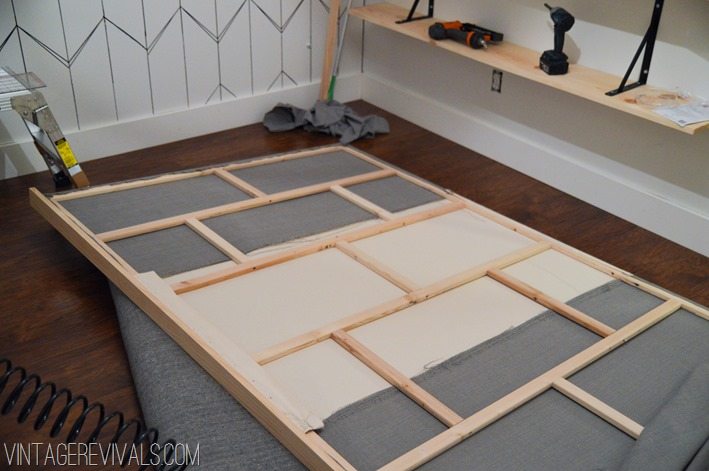 Once your fabric is on, it is time to attach the outer frame.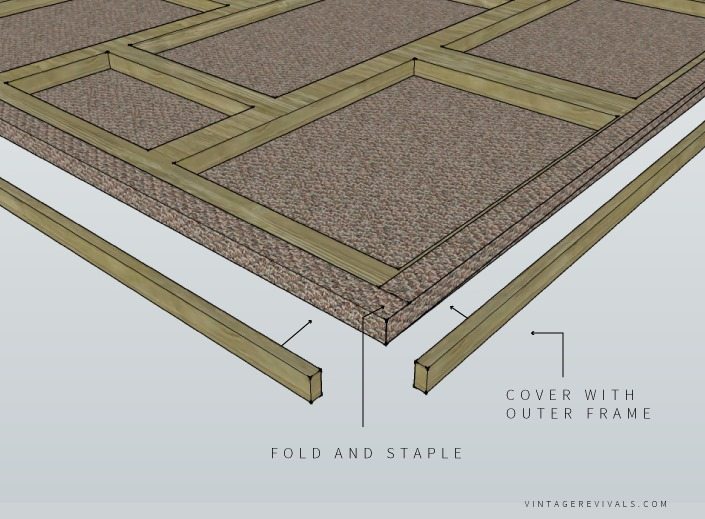 The outer frame is made out of the nice premium wood. Measure the short side of your door (top and bottom) and add 2" to that number. You are adding 2" to compensate for the width of the long sides . If you want you can miter your corners, but we didn't, and it sort of looks awesome.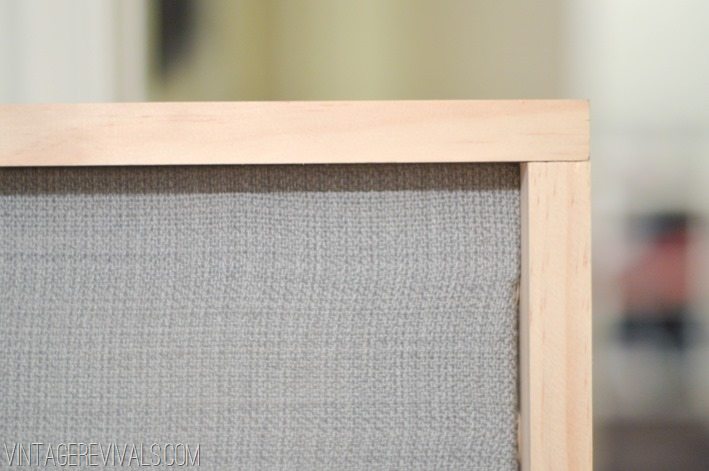 We used a piece of scrap 1×2" to fit the outer frame. By putting it on the front of the door, and then lining the outer wood flush with it, it gave us a 1" lip along the front.
Measure in 8" from each end, and 1 1/2" from the front of your door and mark. This is where your eyehooks are going to be placed. Drill a large pilot hole that goes through the outer and inner frames and screw the eye hooks into place.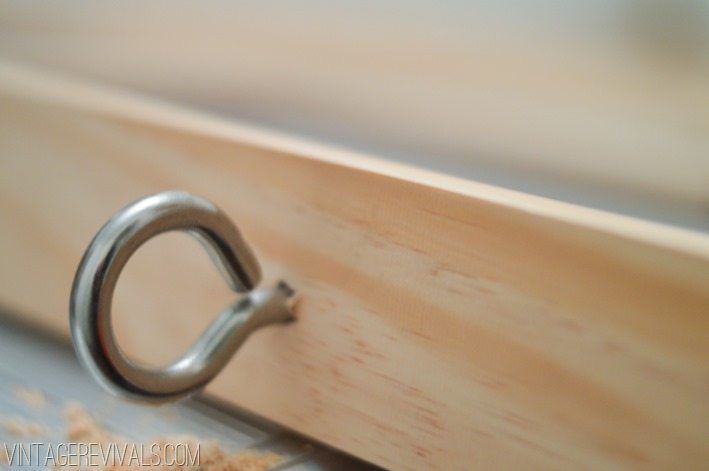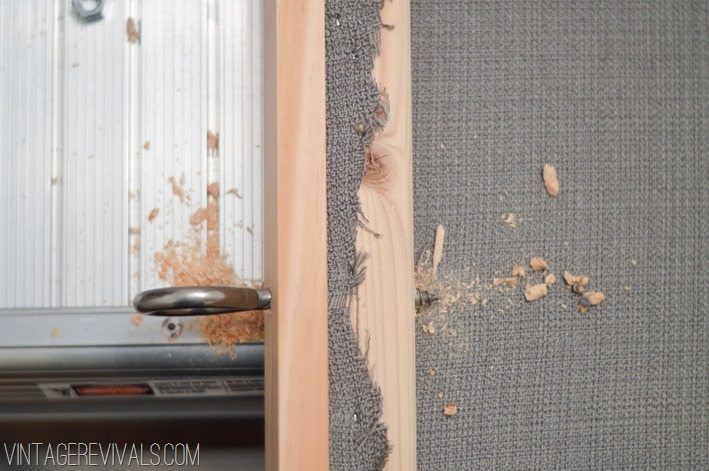 Center your cute little fixed caster wheels on the bottom of your door. *Important little side note. You don't want wheels that can turn and move. Your door will get wonky faster than you can say "I HAVE TO GO TO HOME DEPOT AGAIN!?!" So fixed guys are your friends. Got it?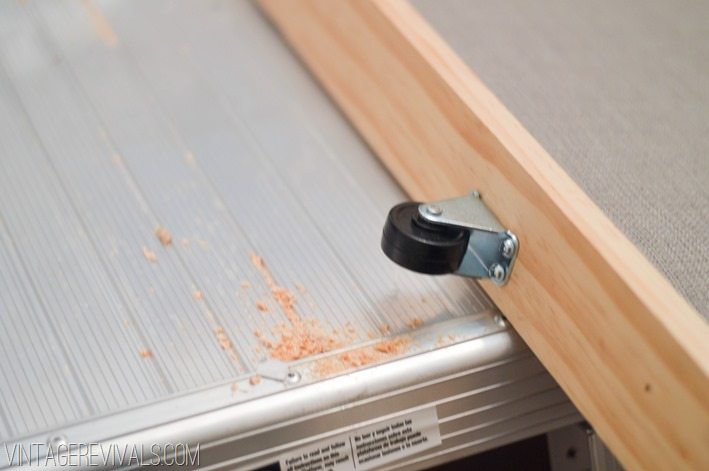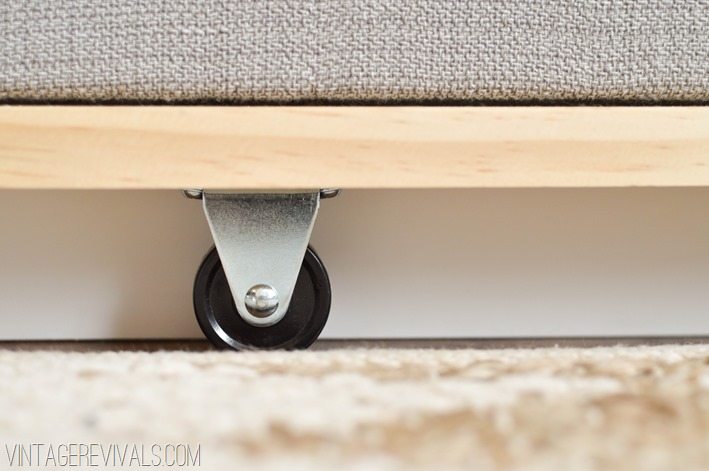 To mount your door you will need a helper. Maybe two.
Start by marking where your studs are. Mark where the ENTIRE stud is. Both edges. I promise you will thank me later.
Start by assembling your advanced wall mounting device. Or brackets. Whichever you prefer.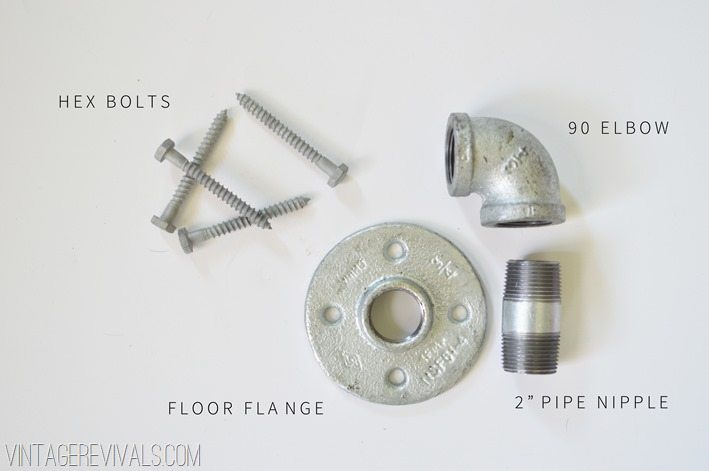 *Just a friendly reminder, the fittings above are 3/4" because that is what I had on hand. You will be using 1/2".
Put the pipe through the eyehooks and attach both ends of the pipe to the brackets.
Move the door into place.
Before you start attaching the hardware to the wall you need to make sure that the door is resting on the wheels. Not the eyehooks. The eyehooks guide it, but the wheels hold the weight. Make sense? Try to center the pipe in the eyehooks so that it is sort of floating there. It makes things quieter too!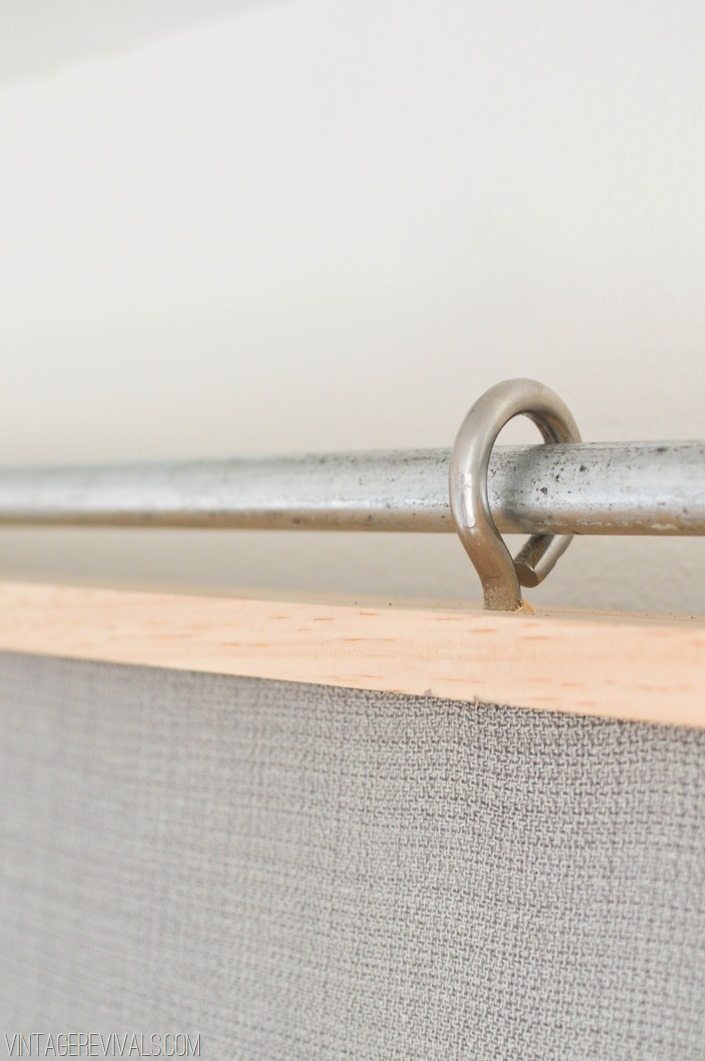 Now this part is going to make you want to kiss me. Probably on the mouth. Its fine. Remember how you marked both sides of the stud? You are going to turn your floor flange until 2 of the holes are over the stud. Because pipe cutting and tightening are not an exact science (obviously you want it to be as tight as you can get it, but my husband can usually get a few more turns than I can) this leaves a little wiggle room. You just manipulate where the screw holes line up by turning the flange, as opposed to trying to cut the pipe 1/4" shorter. So smart right?! Pucker up!!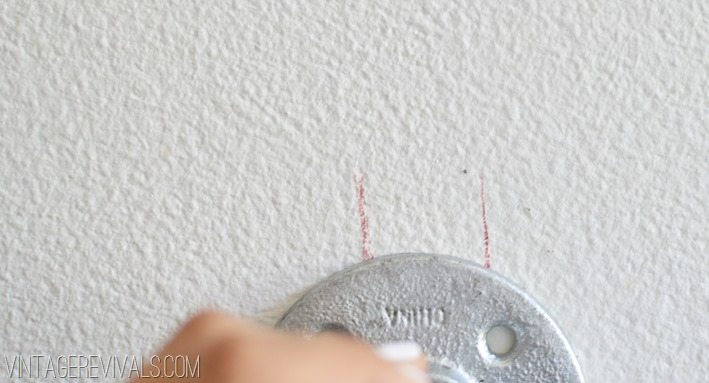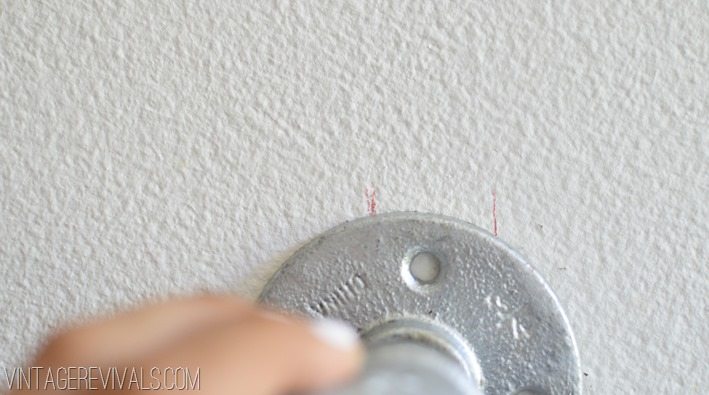 Mark where your holes need to be predrilled. Predrill (obvs) and then attach the brackets with hex bolts.
This is a FANTASTIC, inexpensive way to get the look of an on trend sliding door, without the cost, or the headache!
If you are wondering what it sounds like and see how easily it glides, check out this video. (Its near the end)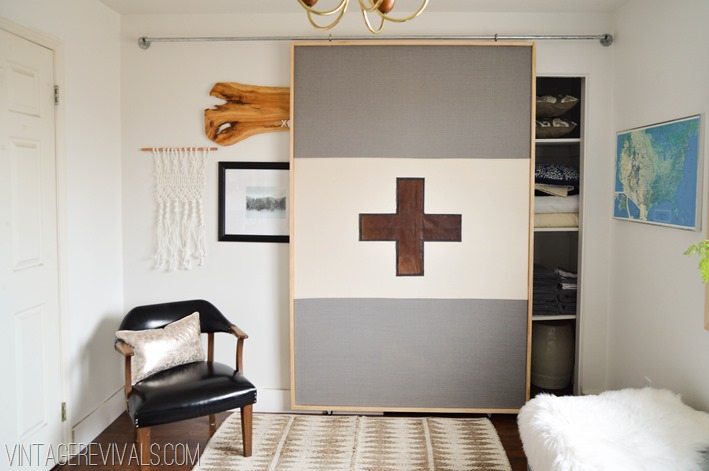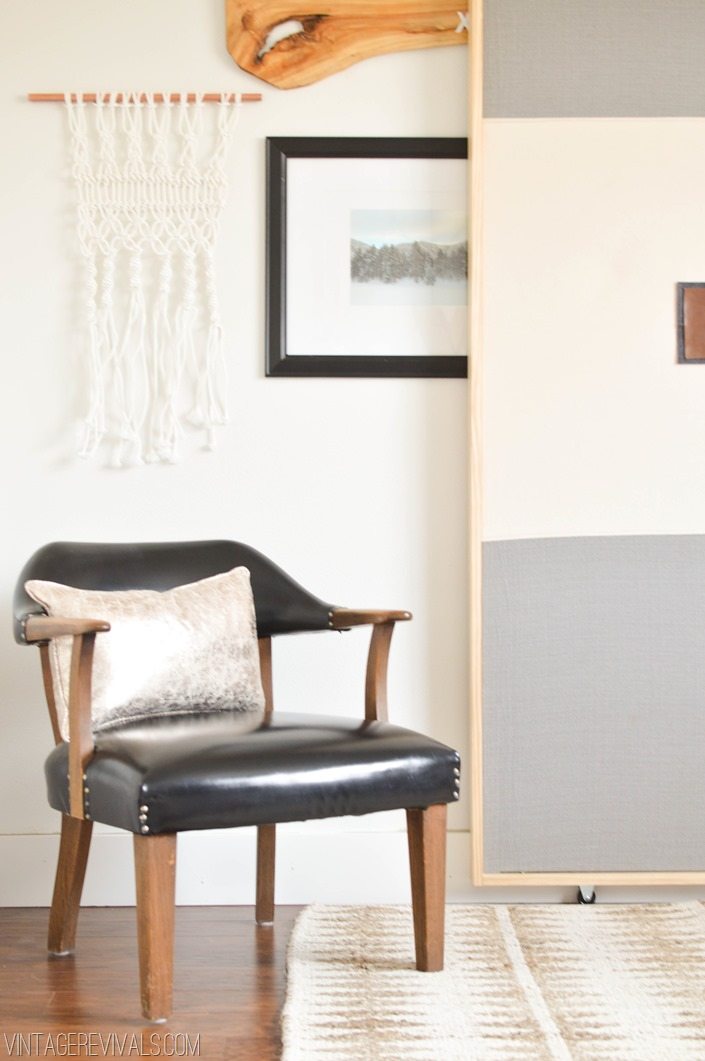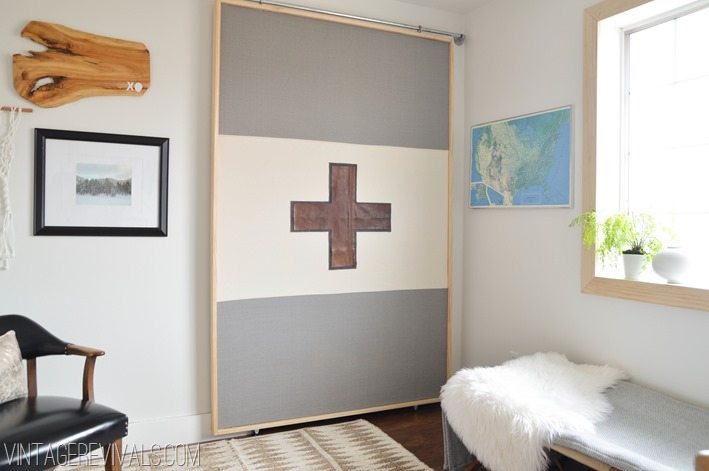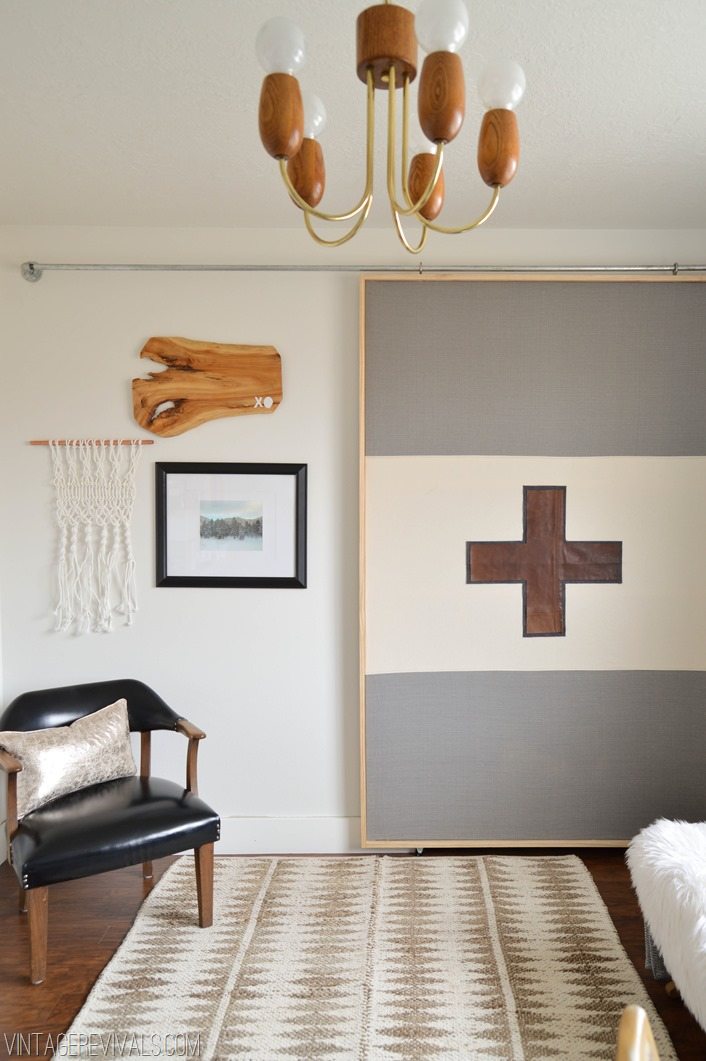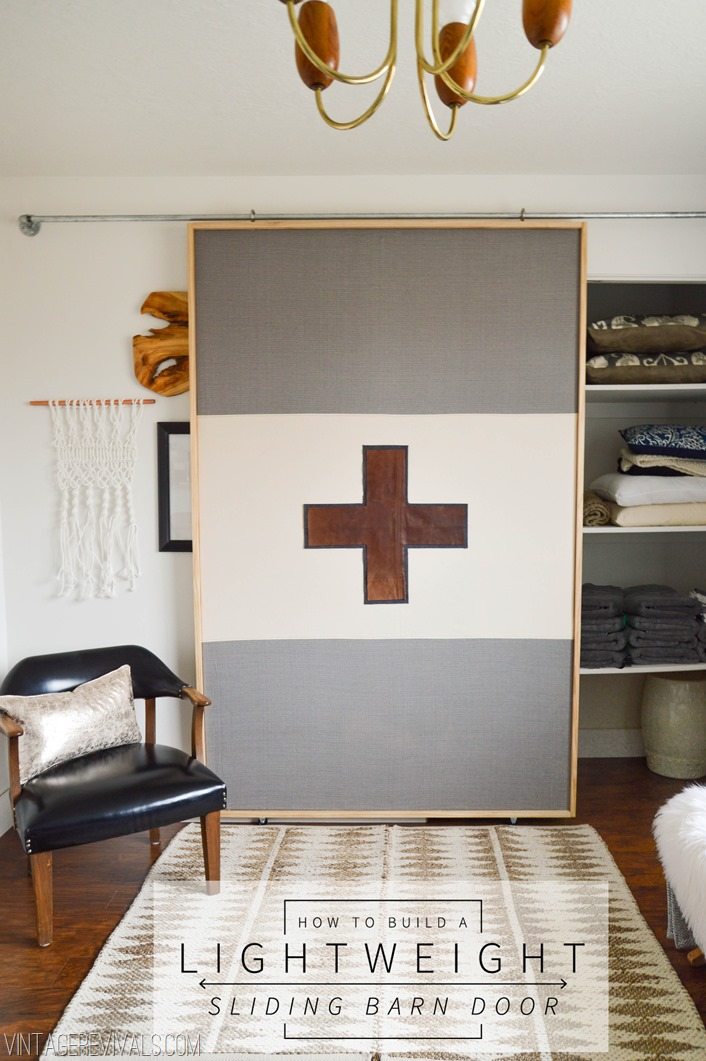 Need more awesome ideas? Check out the full room reveal here,  and the tutorials here!